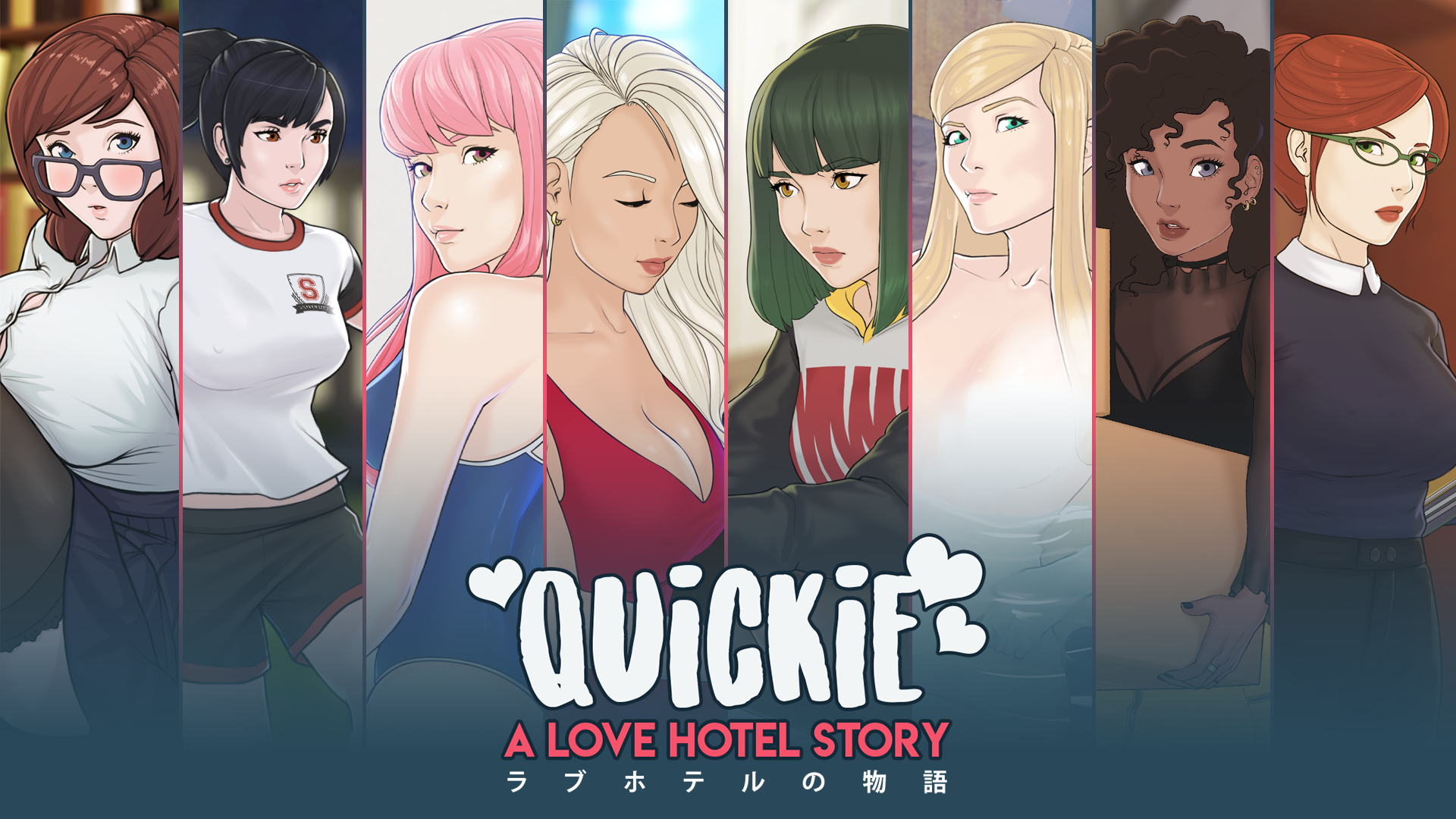 Quickie: A Love Hotel Story (PUBLIC DEMO V0.24.4p)
Quickie: A Love Hotel Story (V0.17.1p) UPDATE
---
The public release of Quickie: A Love Hotel Story (v0.17.1p) is now available!
BUILD v0.17 HIGHLIGHTS
New Quickie Girl: Mai
Mai's Heart 1 and Heart 2 events are now available! Mai's events can be triggered in My Whiskey (accessible from Roppongi) during the evenings.
New Hotel Invite - Mai Emperor and Office Rooms
Mai's Emperor and Office room Quickie Love Hotel Invites are now available! You can access this new invite from the Quickie Love Hotel's Invite menu (make sure you have the Emperor room and Office room in your Hotel!).
New Location - My Whiskey
My Whiskey is now available in Roppongi during the evenings.
New Hotel Expansion - Roppongi
You can now expand your Quickie Love Hotel business to Roppongi! Yusei will call you to discuss the expansion on 23rd of Spring.
Messageboard Update - Rapper
The Messageboard patreon reward has been revamped! Patreon messages are now said by a new character, Rapper. You can talk to him in Shinjuku to see what he's about.
STORY UPDATES
Added Mai's Heart 1 and 2 events.
Added new characters: Touma, Low and Rapper.
Added Mai's Emperor and Office room invites.
Added Roppongi Hotel Expansion events.
GENERAL UPDATES
New Roppongi environments: My Whiskey and Quickie Love Hotel.
Messageboard revamp: Rapper.
Added cheat to unlock all locations.
Option to run the game in the background has been added to Settings.
Option to mute the game in the background has been added to Settings.
Added surnames for the Quickie girls.
QUICKIE LOVE HOTEL UPDATES
Added new room: Dungeon Room.
Added WIP rooms: Shinjuku Single, Shinjuku Double, Roppongi Single, Roppongi Double and Karaoke rooms.
You can expand to Roppongi and run two hotels (one at a time).
Changed Quickie Love Hotel Shinjuku's starting room layout.
Room types wanted by guests are now evenly balanced.
Added different guest types.
Added option to change shift speed.
Rewards are now given when you reach certain stars.
BUG FIXES
Fixed shop close animation.
Fixed a number of typos.
Fixed Shujin Hallway's room numbers.
Files
QLHS_0171p_Android.apk
298 MB
Sep 11, 2020
QLHS_0171p_Linux.zip
359 MB
Sep 11, 2020
QLHS_0171p_Mac.zip
343 MB
Sep 11, 2020
QLHS_0171p_Windows32.zip
331 MB
Sep 11, 2020
QLHS_0171p_Windows64.zip
334 MB
Sep 11, 2020
Get Quickie: A Love Hotel Story (PUBLIC DEMO V0.24.4p)