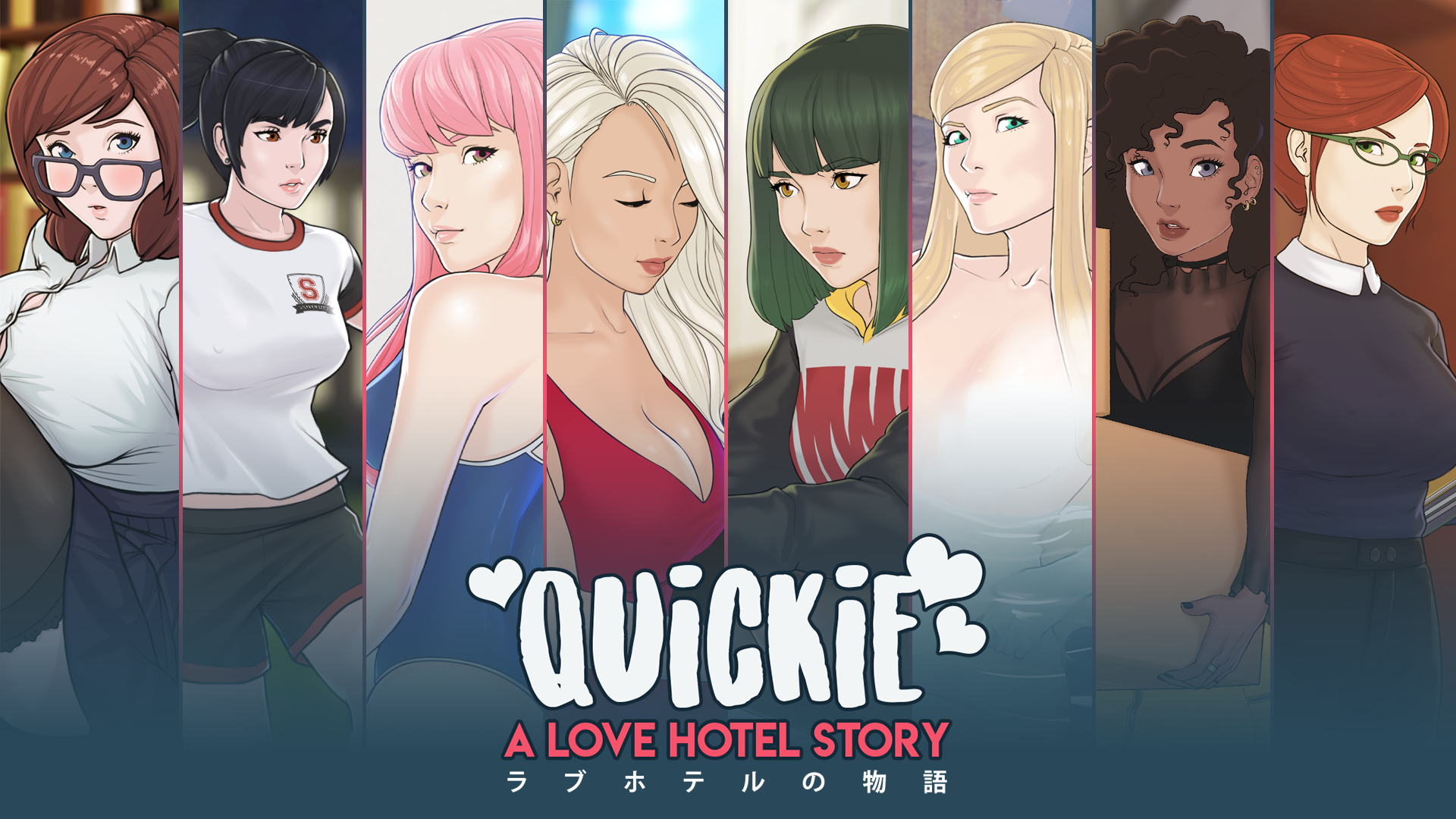 Quickie: A Love Hotel Story (PUBLIC DEMO V0.24.4p)
Quickie: A Love Hotel Story (V0.19.2p) UPDATE
---
The public release of Quickie: A Love Hotel Story (v0.19.2p) is now available!
BUILD v0.19 HIGHLIGHTS
Toshiko Heart 3
Toshiko's Heart 3 event is now available! When the Heart 3 event is available, you'll get a phone call from Toshiko.
New Hotel Invites - Toshiko Emperor and Gamer Rooms
Toshiko's Emperor and Gamer room Quickie Love Hotel Invites are now available! You can access this new invite from the Quickie Love Hotel's Invite menu (make sure you have the Emperor room and Gamer room in your Hotel!).
STORY UPDATES
Added Toshiko's Heart 3 events.
Added Toshiko Emperor and Gamer room invites.
GENERAL UPDATES
New story locations: Toshiko Apartment and Apartment Hallways.
Slight change to Mai Heart 2 to include their busts at the start.
Added Toshiko's naked bust for cheat builds.
QUICKIE LOVE HOTEL UPDATES
Shifts now take 2 minutes to complete, no matter what your Popularity stat is.
Added a small progress bar to show when a guest is about to enter the hotel during a shift.
Rooms are dirty after one use and will require cleaning before it can be used again.
Added more feedback to show a room's state.
A room's type is on display at all times during a shift if the room is available for guests.
Popularity now increases the spawn rate of guests (higher popularity will mean a quicker spawn rate of guests).
Removed daily passive income from the hotel.
Removed Average Room Rate stat (no longer needed).
Quickie Hotel Manager now shows which rooms you've already built in the Build menu.
BUG FIXES
Fixed mouth overlapping during some h-scenes.
Fixed Hotel Office post processing at night.
Fixed Quickie Hotel Manager menus being shown when a shift starts.
BUILD v0.19.1 HIGHLIGHTS
STORY UPDATES
Added two stills and rain effects during Toshiko's Heart 3 event.
Added a still during Toshiko's Emperor room invite.
Added a still during Toshiko's Gamer room invite.
GENERAL UPDATES
Added three new gallery items: Toshiko Heart 3 still, Toshiko Emperor room still and Toshiko Gamer room still.
Updated Toshiko's animation during Heart 3.
Updated Toshiko's run sfx during Heart 3.
Added new room: Monster Room.
Guests in Quickie Hotel Manager now wait twice as long.
Clean and dirt particles no longer overlap each other.
Room type is now displayed in the Build menu.
Quickie Love Hotel location is now displayed in Quickie Hotel Manager.
BUG FIXES
Fixed bug where players no longer received the "End of Content" popup from continued saves.
Fixed mouse scrolling speeds in menus.
Fixed Quickie Love Hotel zooming when in the Build menu.
BUILD v0.19.2 HIGHLIGHTS
GENERAL UPDATES
Added Steam wishlist links.
BUG FIXES
Fixed room type still visible when a room is destroyed.
Re-added Ueno's post-processing.
Removed split cutscenes from the cheat menu.
Fixed cheat build bug with Android builds.
Thanks!
Files
QLHS_0192p_Android.apk
327 MB
Feb 09, 2021
QLHS_0192p_Linux.zip
400 MB
Feb 09, 2021
QLHS_0192p_Mac.zip
387 MB
Feb 09, 2021
QLHS_0192p_Windows32.zip
371 MB
Feb 09, 2021
QLHS_0192p_Windows64.zip
374 MB
Feb 09, 2021
Get Quickie: A Love Hotel Story (PUBLIC DEMO V0.24.4p)