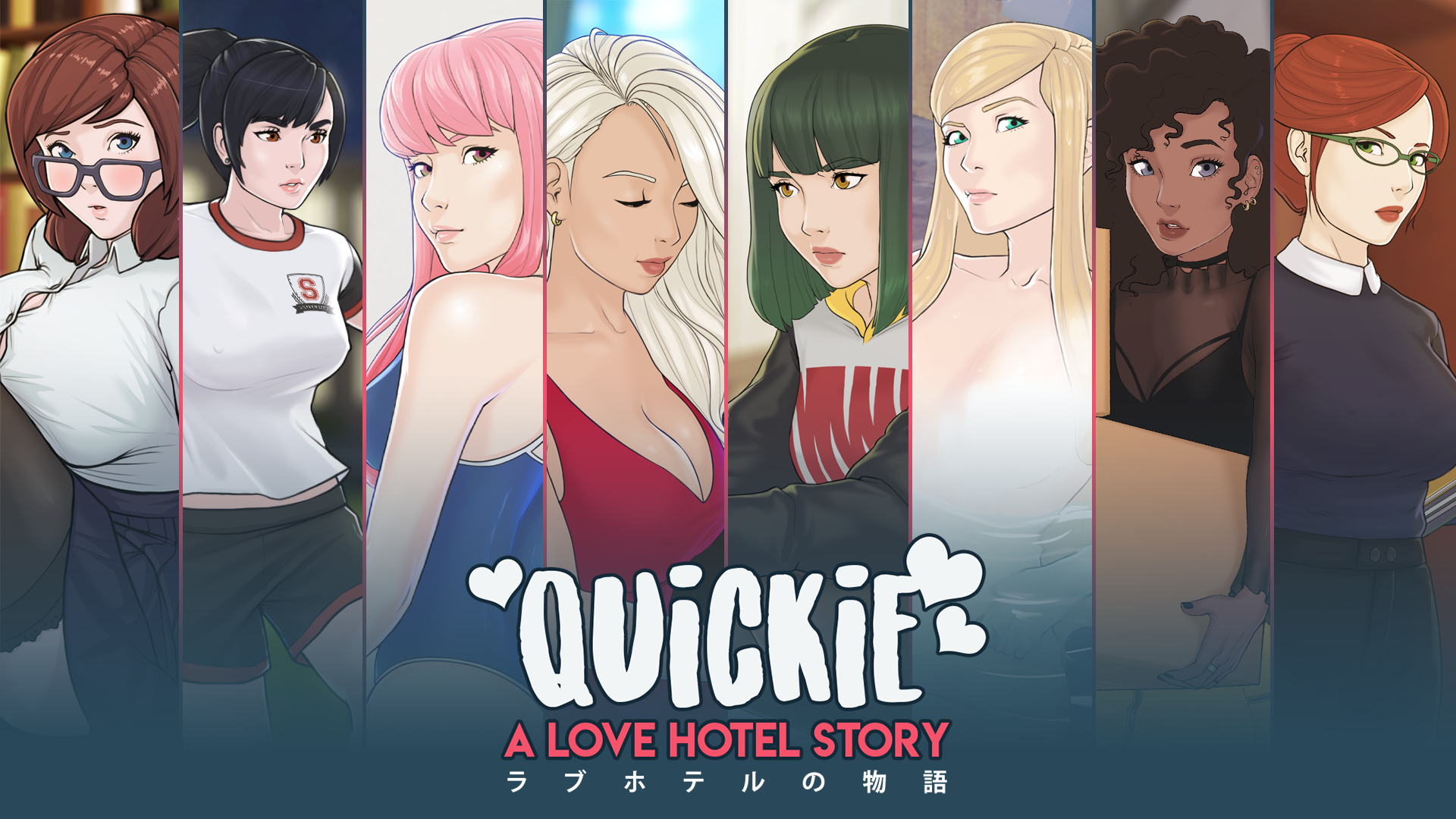 Quickie: A Love Hotel Story (PUBLIC DEMO V0.24.4p)
Quickie: A Love Hotel Story (V0.20.1p) UPDATE
---
The public release of Quickie: A Love Hotel Story (v0.20.1p) is now available!
BUILD v0.20.1 HIGHLIGHTS
GENERAL UPDATES
Added glitter to Mai's dress in her Heart 3 reveal.
Previously gifted items are now indicated in the gift menu. This won't include disliked items from earlier saves.
BUG FIXES
Fixed inventory item space capping at 100.
Fixed bug when replying with "Sure" to Mai's Heart 3 phone call.
BUILD v0.20 HIGHLIGHTS
Mai Heart 3
Mai's Heart 3 event is now available! When the Heart 3 event is available, you'll get a phone call from Mai.
New Hotel Invites - Sara Hanami and Mai Hospital Rooms
Sara's Hanami and Mai's Hospital room Quickie Love Hotel Invites are now available! You can access this new invite from the Quickie Love Hotel's Invite menu (make sure you have the Hanami room and Hospital room in your Hotel!).
Major Quickie Hotel Manager revamp
Massive changes have been made to the Quickie Hotel Manager. Main changes are specified below. (Note: Due to the amount of changes, we've removed the different guest types and delayed the opening of the Akihabara expansion)
STORY UPDATES
Added Mai's Heart 3 event (available after Toshiko's Heart 2 event).
Added Sara Hanami and Mai Hospital room invites.
Added Sara Yukata costume (available in her Hanami room invite).
Added Mai Nurse costume (available in her Hospital room invite).
Toshiko's Heart 3 event now requires Mai's Heart 3 event to be complete.
GENERAL UPDATES
New story locations: Roppongi mall.
Roppongi and Akihabara locations now unlock together when you have at least 3 hotel stars. (This won't affect those who have already unlocked them)
Roppongi hotel must be bought to unlock. (This won't affect those who have already unlocked it)
Mai's hotel invites now unlock after her Heart 3 event (was previously after Heart 2).
Updated the map screen to show how many hotel stars you need to unlock locations if required.
Added a loading bar when starting a new game or continuing from a previous save.
Inventory now shows item count (instead of showing duplicate items).
Updated save file from version 11 to 12.
QUICKIE HOTEL MANAGER UPDATES
Major Quickie Hotel Manager UI overhaul.
New hotel room: Hanami room.
Changed the hotel star rating system to focus on goals.
Extended each floor by two tiles.
Added a reward at the end of every shift depending on how well you did.
Services have been completely revamped. Two major services explained below.
Added Ticket Machine service that spawns guests and automatically places them in rooms (if the requested room is available).
Added Janitor service that automatically cleans dirty rooms when available.
Guests can now request any or specific room type. Guests can only be placed in the requested room type.
Added items. Items can be bought and used on a room with an item slot, giving the room a buff.
Added hotel tile buffs. Rooms placed on these tiles will receive the buff.
Hotel now shows all available floors.
Rooms now have three core stats: Booking Fee (hotel money received when placing a guest in a room), Daily Earnings (hotel money gained at the end of the day) and Tips (personal money to be used outside of the hotel).
Rooms can now be moved.
Re-added passive income at the end of each day.
Hotel now has its own currency. Anything hotel specific now requires this currency.
Added more audio feedback.
BUG FIXES
Fixed "Run in background" option not saving state.
Reworked audio system to allow for smoother audio transitions during cutscenes.
Thanks!
Files
QLHS_0201p_Android.apk
361 MB
Apr 09, 2021
QLHS_0201p_Linux.zip
464 MB
Apr 09, 2021
QLHS_0201p_Windows32.zip
434 MB
Apr 09, 2021
QLHS_0201p_Windows64.zip
436 MB
Apr 09, 2021
QLHS_0201p_Mac.zip
417 MB
Apr 09, 2021
Get Quickie: A Love Hotel Story (PUBLIC DEMO V0.24.4p)