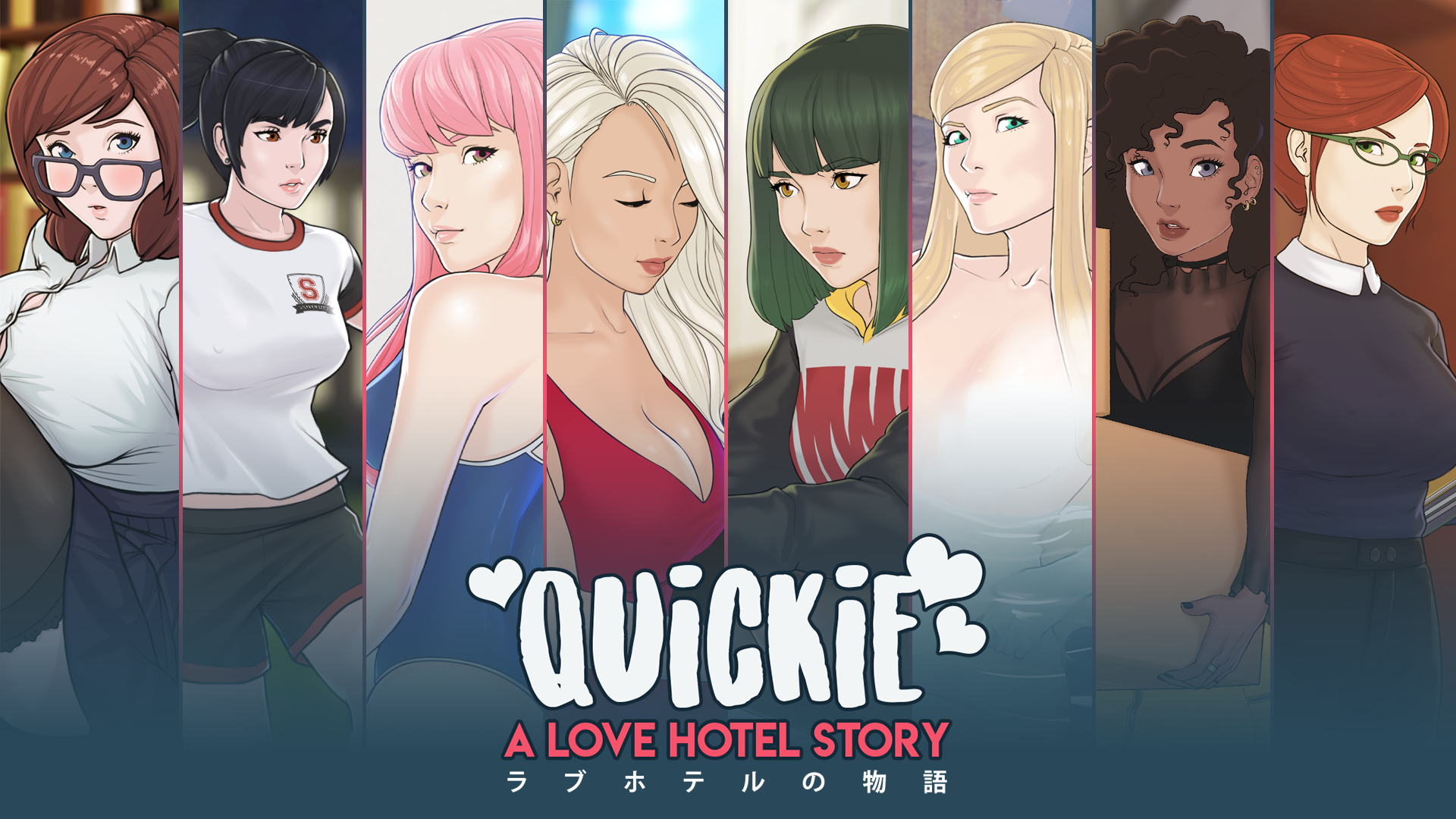 Quickie: A Love Hotel Story (PUBLIC DEMO V0.24.4p)
Quickie: A Love Hotel Story (V0.14.1p) UPDATE
---
The public release of Quickie: A Love Hotel Story (v0.14.1p) is now available!
BUILD v0.14.1 HIGHLIGHTS
New Quickie Girl: Professor Belmont
Professor Belmont's introduction and Heart 1 event is now available! Professor Belmont's introduction can be triggered in Shujin's Hallway (accessed from Shujin) in the afternoon. Her Heart 1 event can be triggered from the same location after the introduction is complete.
Reika Heart 2 Event
Reika's Heart 2 Event is now available! You can trigger it by speaking to Reika in your apartment after completing her Heart 1 event. You'll now need to finish Reika's Heart 2 event to unlock her invites in Quickie Love Hotel (rather than finishing her Heart 1 event).
First Hangout: Sara
You can now ask Sara if she'd like to hangout at the Shujin Library, starting a scene with Sara and a special guest!
New Hotel Invite - Sara Gym Room (Premium only)
Sara's Gym room hotel invite is now available! You can access this new invite from the Quickie Love Hotel's Invite menu (make sure you have the new Gym room in your Hotel!).
STORY UPDATES
Added Sara's Gym room invite (Premium only).
Added new busts: Shin and Yamato.
Added Sara's gym bust.
Updated Professor Belmont's voice.
Added Professor Gōda music.
GENERAL UPDATES
Added props to Shujin's Classroom.
Added modifiable hotel stats to the Cheat menu.
Added Sara's Gym H-Scene to the Gallery (Premium only).
Older saves are converted for v0.14.1.
QUICKIE LOVE HOTEL UPDATES
Services have been changed and are now available! Specific services might change in future builds. Let us know what you think!
Added new rooms: Gym and Detention.
Rooms clean fully when a shift is complete.
BUG FIXES
Fixed some hotel UI not updated correctly when in the hotel's shift phase.
Fixed a number of spelling/grammatical errors.
BUILD v0.14 HIGHLIGHTS
STORY UPDATES
Added Professor Belmont's introduction and Heart 1 events.
Added new character: Professor Gōda
Added Reika's Heart 1 event.
Added Sara's Shujin Library Hangout.
GENERAL UPDATES
New Shujin environments: Hallway and Classroom.
New Shinjuku environment (only accessed through events): Photoshoot room.
You can now change your surname.
Added cheat to allow you to change your surname on demand.
Added Student characters.
QUICKIE LOVE HOTEL UPDATES
Maid & Master room type changed to Hardcore.
Sports room type changed to Quirky.
Added WIP room assets (allowing us to create more rooms of a type without waiting on completed rooms).
Guests now wait outside the hotel during the Shift phase to show how many guests are left.
Clicking again on a selected room when in Shift phase now starts cleaning it automatically if possible.
Can no longer lose Star rating and increased the amount of Star rating required per Star.
Reduced the amount of dirtiness guests apply during their stay (two pairs of guests can use a room before it becomes dirty).
Dirtiness is applied to rooms over time, rather than at the end of a guests' stay.
Guests can now be placed in rooms being cleaned. The cleaning will stop as soon as the guests are placed.
Rooms can no longer be destroyed during Shift phase.
Services and more updates to Quickie Love Hotel will be added soon!
BUG FIXES
Fixed some clipping in Reika's Emperor h-scene.
Fixed a few text issues not fitting in the text field.
Changed "Maam" to "Ma'am"
Thanks!
♥
Get Quickie: A Love Hotel Story (PUBLIC DEMO V0.24.4p)