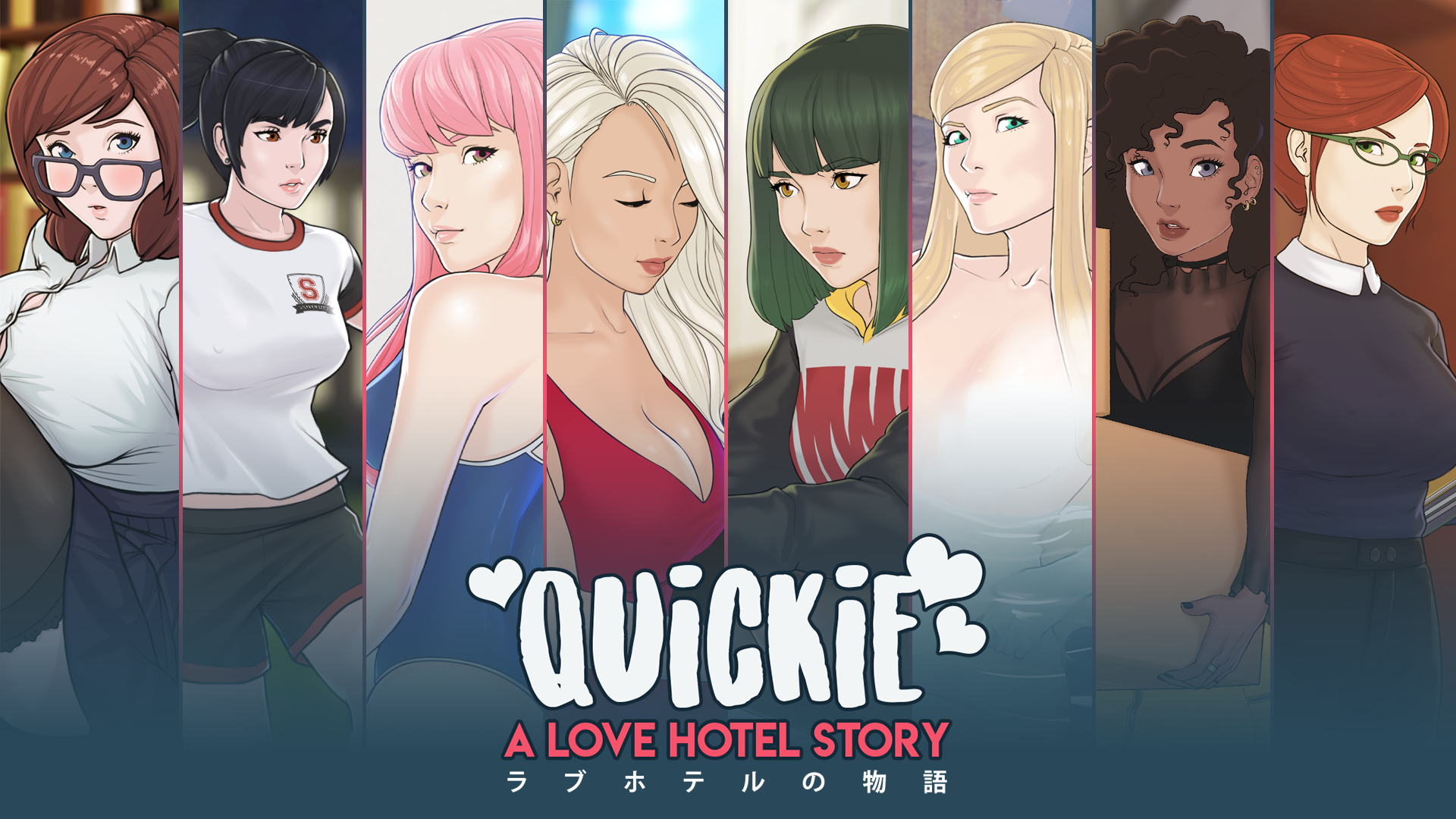 Quickie: A Love Hotel Story (PUBLIC DEMO V0.24.4p)
Quickie: A Love Hotel Story (V0.13.1p) UPDATE
---
The public release of Quickie: A Love Hotel Story (v0.13.1p) is now available!
BUILD v0.13 HIGHLIGHTS
New Sara Heart Events
Sara's Heart 2 and 3 events are now available! You can trigger the Heart 2 event by visiting her in Shinjuku during the evening. Heart 3 event is triggered by talking to Sara in Shujin's soccer field during the evening.
New Quickie Love Hotel Invites
Two new hotel invites are now available with Sara in the Emperor and Onsen rooms. Both will become available in the Quickie Love Hotel when you finish Sara's Heart 3 event.
Note: Sara's Invite will require you to complete a later Heart event in future builds (when she has more Heart events available). We've moved it forward for now so we can access her hotel scenes sooner.
Quickie Love Hotel Manager Major Update
The Quickie Love Hotel Manager has been updated significantly. There are more changes and fixes we'll be adding over the next few updates, but this change should at least highlight the new direction.
Note: There will probably be a lot of bugs and issues with the new Quickie Love Hotel Manager. We'll be ironing out any issues in hotfixes (if they're serious) and future builds.
Save Import and Exports
Saves can now be exported and saved locally to be used on different builds (and other people). We're hoping in the future, older saves (but not older than v0.13) can be used and converted in newer builds.
Note: This build is not compatible with a v0.12 or earlier save. However, we've provided a save you can import to skip older content if you want to get to the new content quicker.
GENERAL UPDATES
Updated Quickie Love Hotel shift music.
Quickie Love Hotel pauses when dragging guests into a room.
General room info is displayed when dragging guests into rooms.
Added shower sfx in Sara's Onsen room invite.
Updated Sara's Onsen h-scene animation.
Updated Sara's Onsen h-scene finish sfx.
Patron-only gallery scenes are now distinguishable in public builds when locked.
BUG FIXES
You can now paste saves to import in WebGL build.
Fixed a few spelling/grammar issues.
STORY UPDATES
Added Sara's Heart 2 and 3 events.
Added two new characters: Kimiko and Yui.
Added Sara's Emperor and Onsen room hotel invites.
GENERAL UPDATES
Added Dinner Date room to Quickie Love Hotel.
Significant Quickie Love Hotel Manager update.
Save Export/Import support.
Space bar now skips text during cutscenes.
Quickie girls now stick around in the world when you've completed their content.
Slight changes to Shujin's environment.
Slight changes to the Main menu.
Minor changes to Sara's 3D animations.
Updated Unity engine version.
BUG FIXES
Fixed Reika's missing face reaction when gifting.
Fixed Reika's text message being sent multiple times.
Fixed UI scaling bug in Tutorial selection window.
Fixed UI scaling bug in Cheat's Cutscene selection window.
Thanks!
♥
Get Quickie: A Love Hotel Story (PUBLIC DEMO V0.24.4p)